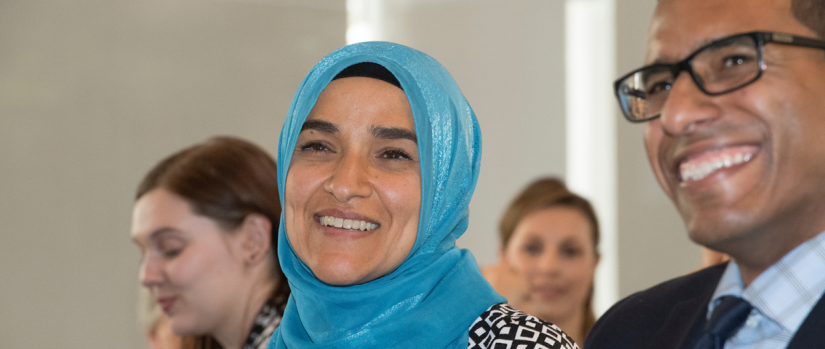 Comprised of about 60 members from across all nine divisions of Johns Hopkins, the Diversity Leadership Council advises university President Ronald Daniels on matters of diversity and inclusion. It encourages programs that are supporting diversity, inclusion, and equal opportunity at the university and health system and urges progress in areas where the institutions need to improve.
For over twenty years, the council has advocated for domestic partner benefits, a more welcoming environment for persons with disabilities, diversity training for supervisors and managers, and the establishment of divisional diversity councils. It has conducted surveys of the university community, given the annual Diversity Leadership Awards, held an annual diversity conference, and created a program for Diversity Innovation Grants.
General members are selected each year through a nomination process, and several leadership officials serve as ex-officio members.
DLC Programs and Initiatives
Diversity and Inclusion Conference: At this full-day conference, guests can join the Diversity Leadership Council in exploring the frontiers of diversity and inclusion at Johns Hopkins. Workshop topics generally focus on issues such as recruitment and retention, defining diversity, legal issues in higher education, conflict resolution, and more.
The 20th Annual Diversity and Inclusion Conference will be held on Friday, October 20, 2023. The theme of the 2023 DLC Conference is Rooted: Remaining Grounded in a Changing Environment, encouraging us to explore what it means to pursue DEI-related work in an ever-evolving world.
Diversity Leadership Awards: These awards recognize the exceptional contributions of faculty, staff, and students in advancing and celebrating diversity and inclusion at Johns Hopkins. Faculty, staff, and students from all divisions of Johns Hopkins are eligible to receive the award. Current members of the DLC are not eligible to be nominated. The next round of nominations will start Spring 2024. To see past winners, click here.
Diversity Innovation Grants: The Diversity Innovation Grant program provides funding to support fresh, innovative programming ideas that foster diversity and inclusion among the kaleidoscope of communities at Johns Hopkins (JH). To learn more, click here.
Membership
A listing of the 2023-2024 DLC Roster can be found at the link.
Annual Reports
See our annual reports here.