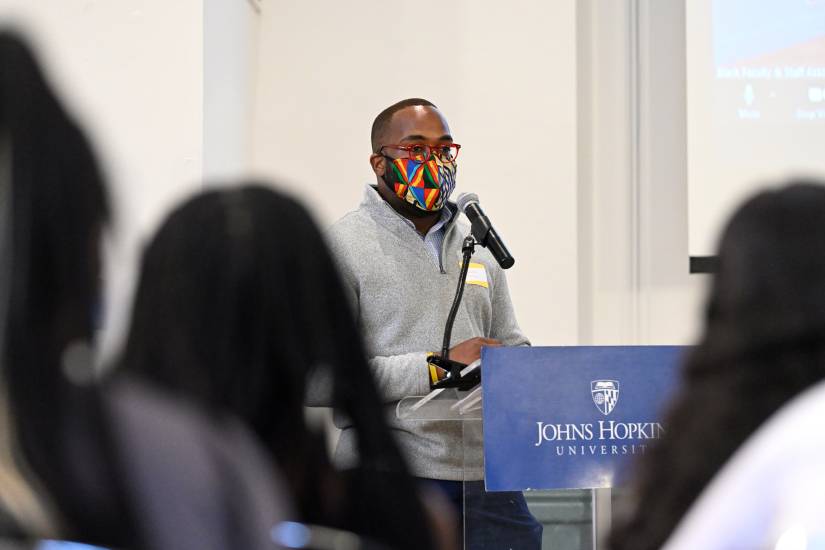 From the moment they arrive at Johns Hopkins, it is essential that our staff feel welcomed and supported, have a sense of belonging, and can clearly see and access continuous pathways to professional and personal advancement—whether that meansbeing supported as they pursue career advancement or educational opportunities or continue to thrive and excel in their current positions.
The specific goals below support this aim.
Goal 1. Establish an Employee Innovation Fund
Johns Hopkins will create a $10 million Employee Innovation Fund for transformational projects that support the talented, diverse, and engaged employees who fuel our academic, research, and public service missions, and identify, and in turn, address inequities across job categories and identity groups. 
Our aim is to take Johns Hopkins from a good to a great employer, where every employee with desire and ability sees a pathway to personal and professional advancement. These funds will go to initiatives designed to improve access to opportunities, better support underrepresented and limited income employee groups, and find new ways to fuel the development of employee careers and well-being as valued members of the Johns Hopkins community.
The university will advance this effort through a series of initiatives, including but not limited to
Career architecture. The university will create clear, meaningful pathways for advancement through a Career Architecture project that will create new market-based job families and pay ranges, clarify career progression pathways, and develop related competency frameworks to clarify skills needed for positions of increasing responsibility.
Staff development and career advancement. JHU will support employees' career progress through additional investments in professional development offerings, enhanced tuition support benefits, and the re-establishment of a career services office modeled after the undergraduate Life Design Lab to serve staff and their pursuit of personal and professional aspirations beyond our campuses.
HR strategic plan. The broader launch of the initiatives listed above as well as additional, new programs will follow a strategic planning process and stakeholder engagement effort to be led by the new vice president for human resources in 2022.
Goal 2. Expand the JHU Staff Diversity Initiative (SDI)
In recent years, staff from underrepresented groups (URG) have expressed concerns about a lack of strategy and accountability regarding retention and advancement barriers. According to the Summer 2020 Staff Composition Report, staff from underrepresented racial and ethnic groups hold 85% of service positions across Johns Hopkins, 27% of managerial, and 19% of executive/administrative roles. These data point to opportunities for enhancing career-development pathways for URG staff members' advancement into more senior roles and to more effective recruitment of diverse candidates into higher-level roles. We also need to create a welcoming, equitable, and inclusive environment for diverse staff in every role at Johns Hopkins.
An expanded Staff Diversity Initiative will include initiatives to measurably strengthen and improve our recruitment, retention, and advancement of a diverse workforce through:
Regular climate surveys. Beginning in 2022, the university will deploy a regular climate and engagement survey to improve our understanding of the needs and aspirations of our workforce, measure progress and identify barriers and challenges to a diverse, equitable, and inclusive work environment. To inform corrective action plans, the university and divisions will track improvements or declines in performance at the unit-level and will share results broadly with all staff.
Increasing the diversity of managers and leadership. Across the university and within the schools, we aim to continue increases in diverse representation at the managerial and executive/administrative levels for next five years by recruiting URG applicants, ensuring that applicant pools meaningfully reflect the labor pool for the recruited position, and scrupulously following anti-bias search practices.
Building divisional staff engagement plans. Divisions will build staff and leadership groups to lead a periodic (~every two years) gap analysis and planning process based on the results of climate surveys and staff composition reports. Staff engagement plans will be approved by divisional leadership, and results will be measured and communicated clearly to all staff through scorecards and other reporting tools.
Developing mandatory training for managing effectively in diverse environments. The university will implement mandatory training for all managers in building and enhancing diverse, equitable, and inclusive work environments where all employees can thrive and bring their full selves to work, which will include implicit bias and anti-racism training.
Measuring pay equity and ensuring correction. Beginning in 2022 the university will publish a periodic survey (every three years) of pay equity for staff. These surveys will track and seek indications of bias in staff compensation levels and ensure necessary corrections if identified.
Strengthen the DEI aspects of the Leadership Development Program. The university will review the curriculum of the existing staff Leadership Development Program and create additional DEI-focused components to better support high-potential employees and future leaders from diverse backgrounds and to increase enrollment of URG staff.
Goal 3. Create a universitywide Staff Advisory Council
We believe that creating a mechanism that supports staff contributions to universitywide decision making will foster a sense of belonging and affect our capacity to attract and retain diverse talent in the years to come. The formation of a Staff Advisory Council that is regularly engaged with university and divisional leadership will ensure that each member of our community has a voice and is able to provide input into the campus environment in ways that help our staff thrive.
The Staff Advisory Council will be modeled after the University Pandemic Academic Advisory Committee (UPAAC), a cross-divisional academic leadership group that worked collaboratively with the president, provost, and deans through the COVID-19 pandemic, and it will include diverse representation from throughout Johns Hopkins. This body will provide a new forum through which staff can advocate for the needs of themselves and their colleagues and will inform key decisions and policy-making around universitywide initiatives, programming, and policies. The Staff Advisory Council will have the opportunity to meet annually with other university advisory councils and will be charged to consult and advise on employment policies, benefits offerings, DEI-related staff initiatives, and other universitywide issues impacting staff and their environment at JHU.