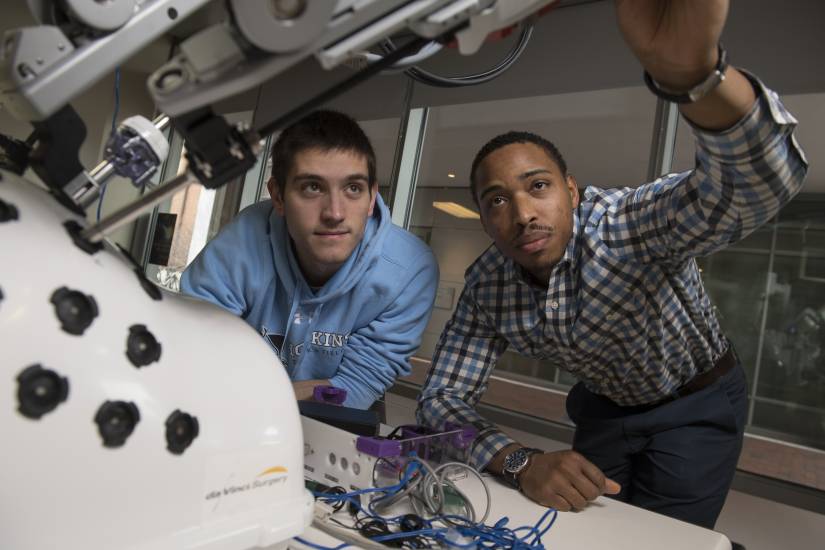 As we said in the first Roadmap, our commitment to the flourishing of our students—intellectually, morally, socially—is central to the university's mission. To discharge this responsibility, the university and its divisions must not only recruit a diverse community of students, at every level and in every division, but also build and foster an environment that welcomes, supports, and celebrates diverse people and ideas.
All Students
Goal 1. Establish a universitywide Student Advisory Council
As a part of our efforts to ensure that student voices are a critical part of the university's work and planning around DEI, as well as in other key areas, in 2022 the university will work with students and student affairs practitioners from across the university to stand up a universitywide Student Advisory Council based on the success and learning of the universitywide Student Advisory Committee (SAC) that was established during the COVID-19 pandemic.
Similar to the structure under consideration for other universitywide advisory bodies, the Student Advisory Council may comprise leaders from elected undergraduate and graduate student bodies and/or deans' designees (where such bodies do not exist or are not fully representative) or memebers at large, along with divisional and institutional leaders. The council will be charged to consult and advise the provost on academic and co-curricular matters that span the university and will seek input from other student entities and organizations, such as the existing universitywide PhD Student Advisory Committee.
Undergraduate Students
Goal 1. Develop our students' capacity to be engaged citizens of a diverse world
Under the auspices of the Second Commission for Undergraduate Excellence (CUE2), the university committed to establish six foundational abilities that must undergird our undergraduate curricular offerings. The fourth of these, in the language of the CUE2 report, provides for "a mandate and mechanism" for students to engage as "citizens of a diverse world…[with] a dynamic knowledge of local, national, and global societies, alongside an understanding of historical inequities, prejudice, bigotry, and racism in our society," as well as an ability "to articulate and examine their own beliefs, practices, and values while being open to and respectful of the beliefs, practices, and values of others."
The undergraduate divisions are currently in the process of developing plans and pilot programs for implementation of the CUE2 foundational abilities, which will include credit-bearing approaches and offerings for achieving the fourth CUE-2 foundational ability. As a part of that effort, beginning in academic year 2022–23, an inventory of courses and offerings that develop this ability will be created through a new faculty-led Inclusive Teaching Committee, and the Center for Educational Resources will provide support for faculty seeking to integrate DEI topics and concepts into other aspects of the required curriculum.

Goal 2. Build an integrated and expansive DEI lifecycle program for students
JHU will fully integrate and expand its undergraduate co-curricular DEI requirements and offerings to create a signature DEI lifecycle program that connects, coordinates, and amplifies the co-curricular aspects of the fourth CUE-2 foundational ability, ensuring our students' capacity for engagement as global citizens in a diverse world from first-year admissions and orientation all the way through graduation.
New and existing programs and opportunities will be brought together through this thoughtful program, including:
For entering students and matriculated first year students: recruitment offerings highlighting identity-based communities and resources; HOP-In, a high touch program to foster a network of support for incoming first generation and limited income students and bolster their success at JHU; required DEI-focused programming and training at First Year Orientation; and the re-introduction of assigned roommates for all first-year students to increase engagement among students of differing backgrounds, experiences, and beliefs.
For all years: continued and expanding opportunities for mentorship; participation in JUMP, the recently re-imagined learning community for pre-health students who identify as first generation/limited-income (FLI) and/or being from historically underrepresented or marginalized groups; robust offerings for community and civic engagement; DEI training for all student organization leaders; the required Identity & Inclusion Workshops for all undergraduates, which will be re-launched in a revised form in spring 2022 in response to student feedback; DEI programs in Life Design, Experiential Learning and Career Services; and required DEI training for all student affairs and student services staff.
New Innovation Fund for DEI Cohort Programs: JHU will invest $250K ($50 per year) over five years to create an innovation fund for new or pilot DEI cohort programs that support academic success, well-being, leadership, affinity building within groups and bridging across them, and/ or social connection. Innovation funds will be awarded through application to the provost and CDO and will be prioritized for student populations where retention, graduation and/or satisfaction lag behind student peers (e.g., for FLI and non-FLI URG students).
Goal 3. Build out new and improved space for student DEI practitioners and programs
Students, faculty, and administrators have long highlighted the value of on-campus spaces designated for identity-based, equity-seeking student groups and DEI practitioners, as well as the need for fair and welcoming access to shared spaces, where students engage with the broadest possible range of diverse people and ideas. The university will work to make these spaces on our campus more visible and more central in two key ways:
Equitable access to Hopkins Student Center: In consultation with student leaders and key stakeholders, Homewood Student Affairs and JHU Facilities and Real Estate (JHFRE) will ensure all student groups (undergraduate and graduate) have equitable access to and are supported by the activity space and student life hub in the new Hopkins Student Center.
New and improved diversity and inclusion space: The Office of Diversity (ODI) and JHFRE will work with students and staff involved with the offices for student diversity and inclusion to identify, design, and build out improved and more centrally located space to support DEI student affairs practitioners and programming.
Goal 4. Publish undergraduate Student Composition Report
JHU has now completed several biannual composition reports for graduate students, faculty, and staff, and beginning in academic year 2022–23, will publish biannually a report that shares data on undergraduate students' racial and ethnic diversity. The report will include grouping by division and major as well as student survey information and self-reported data such as disability, religious, LGBTQ or intersectional diversity.
Graduate Students
Goal 1. Successfully build the Vivien Thomas Scholars Initiative to advance STEM PhD diversity
In spring 2021, Johns Hopkins launched the Vivien Thomas Scholars Initiative (VTSI), a $150 million effort supported by Bloomberg Philanthropies to create a bold and comprehensive approach to the recruitment, matriculation, and success of underrepresented students in the university's PhD programs in science, technology, engineering and math (STEM) disciplines.
The initiative will require intensive efforts over the next several years to build and implement. Its aim is to create 100 new positions in JHU's STEM PhD programs in perpetuity, partnering with leading historically black colleges and universities (HBCUs) and minority serving institutions (MSIs), and creating summer and post-baccalaureate experiences for talented diverse undergraduates. Vivien Thomas Scholars will have full funding for up to six years per scholar, along with a host of additional supports. Partnerships with an inaugural cohort of six HBCUs and MSIs will inform the program and build on these institutions' exceptional records of nurturing talented students in STEM-related fields.
As President Daniels noted at the initiative's launch, "Our hope is that this new program will seed the ground for a more diverse STEM faculty across the country, as well as a more competitive research ecosystem." The program is named for Vivien Thomas, a Black surgical laboratory supervisor who developed a pioneering surgical technique to treat "blue baby syndrome" at the Johns Hopkins Hospital in the 1940s—a lifesaving advance for which he did not receive credit for decades.
Goal 2. Create a PhD Pathways Innovation Fund
The university will create a $5M PhD Pathways Innovation Fund (up to $1M per year for five years) to fuel adoption of best practices, including those gleaned from our experience with the Vivien Thomas Scholars Initiative (VTSI), for increasing diverse PhD pipelines in non-STEM disciplines.
This funding will be awarded as seed grants from the Provost's Office with the expectation of identifying future divisional and philanthropic funding sources for continuation of successful programs. It is intended to encourage and support further progress in departments already demonstrating success in advancing the division's DEI goals but also focus diligently on areas of persistent underperformance, where progress is stalled or weak relative to that of disciplinary peers. Seed grants will supplement divisional funding of these PhD programs, including guaranteed financial support.
Goal 3. Support and enhance diverse graduate student recruitment and experience
To support and enhance diverse graduate student success at Johns Hopkins, the provost's office will work with the divisions to:
Provide ongoing resources dedicated to graduate student retention, recruitment, and success. The Chief Diversity Officer and vice provost for graduate education will collaborate with divisions and departments to develop and pilot targeted or customized programs for graduate student retention, recruitment and success across all dimensions of diversity. Some examples include establishing multi-school and universitywide networks and outreach opportunities for prospective, admitted, and current students as well as events, speakers, and programs that support student success (e.g., multi-cultural graduation celebrations).
Create a Graduate Ambassadors Program. Graduate students who are willing and interested in playing a lead role in DEI recruitment and retention efforts may apply to become one of four to five JHU Graduate Ambassadors in each division and receive a Provost Office stipend of $500-$1,000 per admissions cycle (depending on the required time commitment).
Develop a best practice DEI Toolkit. The Provost's Office will engage divisional colleagues and stakeholders to develop and periodically update a DEI Toolkit as a resource for the divisions in identifying and implementing best practices and innovative ideas for diverse graduate student retention, recruitment and success. The toolkit will include models for ideas recommended by graduate students such as DEI-related training and professional development opportunities, relocation advances and or supplemental awards for arriving students; cohort and holistic admissions for lab-based fields; and same identity mentoring programs.