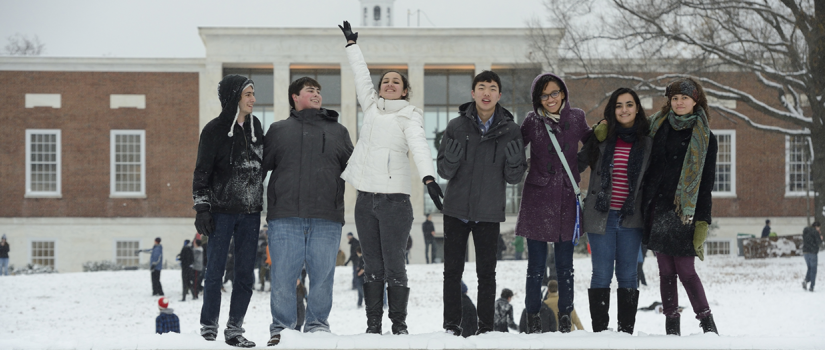 Our vision for diversity at Johns Hopkins is for our community to reflect the broad array of human differences found in our society at large. This diversity advances the university's fundamental role in cultivating students' capacity for learning, from classes, classmates, and colleagues; fuels bold discovery; and serves as a distinguishing factor in our success. The achievement of this ideal will depend on our ability to create and nourish an environment and culture where people from all backgrounds feel valued, engaged, and empowered to succeed.
We approach the challenge of meaningful change not as a single initiative or moment in time. Rather, this must be a sustained effort across the full range of our strategic priorities, undertaken with the complete support of our university leadership, including our deans, cabinet, and board of trustees, and communicated within our community in a manner that reflects the ethos and aspiration of this endeavor.
To guide this effort and hold ourselves accountable for our commitments and progress, Johns Hopkins embarked on the JHU Roadmap on Diversity and Inclusion, a five-year diversity and inclusion strategic plan, in 2016. Its priorities, strategies, and reporting requirements – including a published annual progress report and faculty, staff, and graduate student composition reports – have served as key accountability mechanisms, ensuring that the university's attention to the important issues at its core is subject to sustained focus and vigilant monitoring by the university's leadership and trustees.
Consistent with our determination for this commitment to be ever-evolving and advancing, in summer 2020, JHU formed the Roadmap 2020 Task Force charged with reassessing the goals and priorities in the Roadmap and renewing our dedication to the values of diversity, equity, and inclusion. In this moment of national reckoning with systemic racism and racial injustice, we are working to confront disparities, embrace new ideas and opportunities, and recommit our community to deepening and expanding our DEI efforts at Hopkins."
As we move into the next phase of our Roadmap on Diversity and Inclusion we will continue to be guided by the transparency and accountability that we have dedicated to in our past diversity, equity, and inclusion efforts.
The efforts to sustain a diverse and inclusive community at Johns Hopkins depend on each of us—how we handle everyday interactions on campus; how we teach or learn as our own ideas are tested; how we listen to each other. Each of us must play our part in addressing needs and disparities on our campuses, within our city, and beyond.