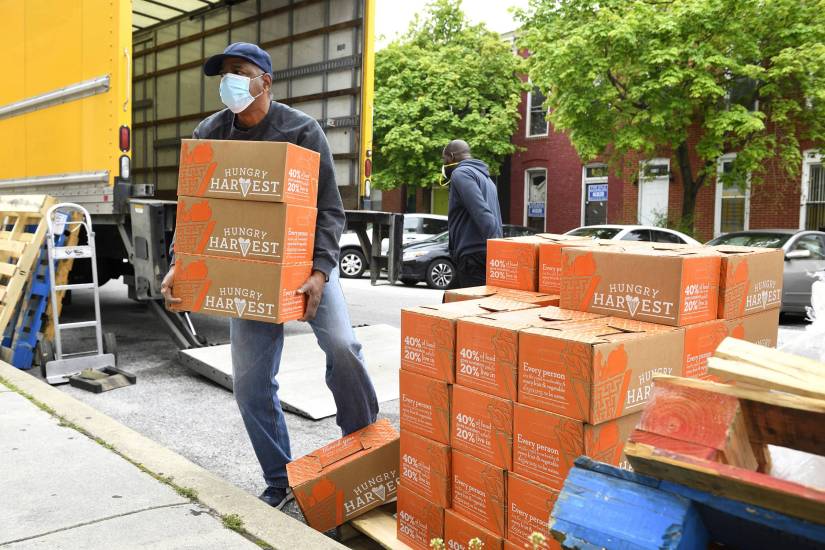 Johns Hopkins is truly and deeply of Baltimore. We understand our role as an anchor institution in our city, working alongside community partners to build healthy and vibrant spaces for growth and development. Our fundamental aim is to strategically pair resources and capabilities to build opportunity in distressed areas, address long-standing disparities, and partner to create sustainable solutions.
Goal 1. Adopt a JHU Community Compact Statement
Our success as an anchor institution is inextricably linked to that of our hometown. Under President Daniels' call to Hopkins to embrace fully our engagement with the city of Baltimore, we have spent the past decade deepening our relationship to this city and to the communities we call home. With the benefit of and lessons learned from those efforts, JHU is well positioned now to bring together key stakeholders in 2022 to craft a Community Compact, i.e., a statement that articulates the university's compact with and commitment to the community across our tripartite mission. This compact will be presented to the university community for feedback prior to its adoption as a university statement and will, in turn, help us to make more visible, accessible, and accountable JHU's anchor initiatives, civic responsibilities, and extraordinary commitment to Baltimore.
Goal 2. Create the Innovation Fund for Community-Academic Partnerships
Johns Hopkins will create a five-year, $5 million innovation fund for supporting, establishing and sustaining community-academic partnerships and fueling community-engaged research, courses, mentorship, internship and co-curricular opportunities. Faculty, staff, and students who conduct community-engaged scholarship, teaching, and service actively support our commitments to Baltimore through their dedication to the growth and prosperity of the city. While the fund is intended to seed innovative approaches to community-academic partnerships, existing programs are also eligible to submit proposals.
Recognizing the importance and impact of community-engaged research, our new Innovation Fund for Community-Academic Partnerships aims to support faculty, staff, and students engaged in this work through competitively awarded one-time and multiyear grants. A faculty advisory committee will be formed to help develop and launch the program in 2022 and provide ongoing oversight and advice.
Goal 3. Expand Johns Hopkins economic inclusion initiatives
The relationships forged with our community partners have led to extraordinary growth, employment, and investment across Baltimore City. Since2015, Johns Hopkins' signature economic inclusive initiative—HopkinsLocal—has supported the hiring of nearly 1,500 Baltimoreans, spent more than $113 million with city vendors, and committed 35.8% of addressable construction spending to local minority-owned, women-owned or disadvantaged contractors. In addition, BLocal, a Hopkins-led network of private sector anchor institutions and businesses citywide, has invested tens of millions of dollars in women- and minority-owned businesses to date, and our investment in the 10,000 Small Businesses Program (10kSB) has assisted over 450 local businesses through business education, support services, and capital.
JHU's overarching goal is to exceed these economic inclusion targets and outcomes every year for the next five years through the "build, hire, buy, invest" strategies of HopkinsLocal, BLocal and 10kSB, with specific metrics and progress reported on an annual basis. Corollary new projects will include data systems, tracking, training and incentives for local level hiring and purchasing decisions; economic inclusion impact research; grants for local businesses to take operations to scale; and collaboration with city- and state-based "Equi-Tech" workforce development efforts.
Goal 4. Form an Office of Economic Development and Community Partnerships
To strengthen and make more visible Johns Hopkins commitment to our city, we will transition the existing Office of Economic Development to the Office of Economic Development and Community Partnerships and continue the increased staffing, resources, and investments made since the elevation of this leadership role to vice president and a member of the President's Cabinet in 2019. This effort will support but not replicate the significant ongoing initiatives and responsibilities across the institution for engaging with our Baltimore community.
Among other initiatives, the new OEDCP will
Establish the Johns Hopkins Anchor Strategies and Community Engagement Steering Committee, a cross-institutional partnership modeled after the COVID-19 Anchor Strategies Committee, to convene internal and external stakeholders, develop internal collaborations, support community-based projects and initiatives, and establish mechanism for recognizing and celebrating outstanding community engagement work.
Publish and regularly update an inventory of institutionwide community-related investments and impact assessments, to keep our community better informed about the scope, scale and effectiveness of Johns Hopkins community-based projects and commitments.