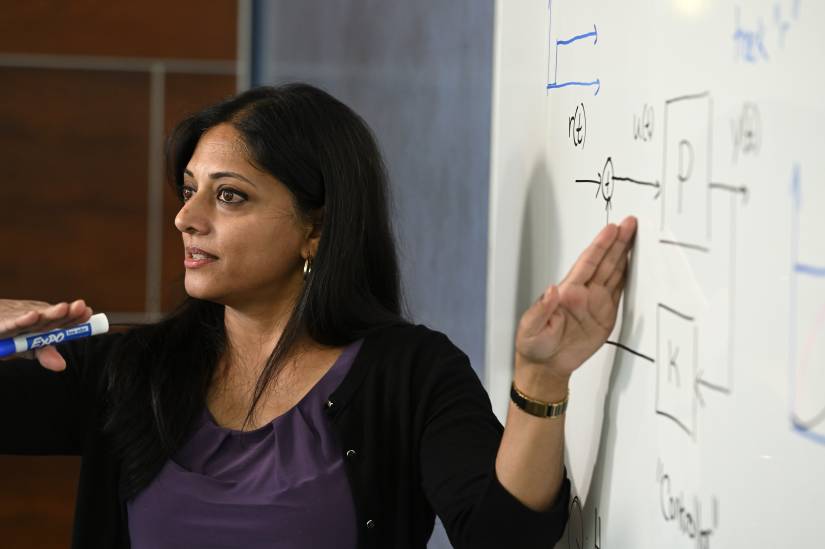 Johns Hopkins aims to be a place that outstanding diverse scholars seek out for their academic and professional home and then remain and reach their full potential in a welcoming, supportive and intellectually stimulating environment. To achieve this, the university and its divisions must not only do more to address gaps in our recruiting of a diverse faculty, particularly in areas where there has been little progress, but also to address persistent feedback regarding the impact of culture and climate on retention and advancement, and establish more firmly our commitment to inclusive excellence.
Goal 1. Launch the Faculty Diversity Initiative 2.0 (FDI 2.0)
To ensure sustained commitment to attracting and retaining outstanding diverse scholars and teaching faculty, JHU will invest $50M over the next five years to hire new tenured or tenure-track faculty members who substantially contribute to promoting diversity and inclusive excellence. University administration will contribute $25 million to match and supplement $25 million of divisional investment.
A. Revamp the Target of Opportunity Program [TOP]. Introduced as part of the Faculty Diversity Initiative in 2015, the TOP program has made an impact, recruiting 35 tenure-track faculty and retaining all but three, helping to build the pipeline of junior faculty and attracting more Black/African American faculty (90% of TOP hires were junior faculty and 80% of TOP hires were self-identified as Black/African American). However, it is clear that the university and the schools need to do more to build on this momentum, particularly in the STEM fields, where diversity continues to lag.

In early 2022, the university will revamp this signature program, transitioning it to a named scholars program of distinction and supporting the hiring of:
20+ tenured or tenure-track faculty members who substantially contribute to promoting diversity and inclusive excellence in STEM, in four to seven distinct clusters over six years (FY 23 through FY28).
10+ non-STEM professorial faculty members who substantially contribute to promoting diversity and inclusive excellence, over six years (FY23 through FY28).
B. Expand the Provost's Postdoctoral Fellows (PPF) program. Expand Provost's Postdoctoral Fellows program to foster pathways to STEM faculty positions and to increase opportunities for leadership, career counseling, and networking with participants of other key diversity pathway programs. The program will fund five to six postdocs every two years for six years.
C. Support and recruit faculty with disabilities. Focus on recruiting and supporting faculty with disabilities, including providing funding to ensure support beyond accommodations provided through the Office of Institutional Equity.
D. Develop central staff and resources to support efforts to diversify faculty across the university. Hire an associate vice provost of faculty diversity to work with divisional partners to identify and coordinate enhanced recruitment and retention (climate, community, opportunity) efforts for diverse faculty.
Goal 2. Establish a comprehensive inclusive excellence program for faculty
To support the success of URG faculty and to ensure that all JHU faculty have the opportunity to develop competencies in diversity and inclusion education and professional development strategies, JHU will invest $3 million (600k over five years) in the following areas:
A. New faculty leadership and advancement programs. The university and its divisions will collaborate to build new faculty leadership and advancement programs for potential faculty leaders, with specialized modules and programming to ensure participation by URG faculty.
B. Expanded faculty DEI education and professional development opportunities. These will provide faculty with ubiquitous resources for developing DEI-related skills, as well as support for incorporating DEI content in courses with a menu of offerings developed, selected, and/or implemented by the Center for Educational Resources in consultation with a faculty advisory committee.
C. New inclusive teaching committee. A new Inclusive Teaching Committee will provide faculty review and assessment of (1) faculty DEI skill development programs and support for incorporating DEI content, and (2) credit-bearing approaches to deliver the fourth CUE-2 foundational ability, "engagement as citizens of a diverse world."
D. Regular faculty pay equity studies. The university will work with the divisions to ensure equity and transparency in faculty pay by conducting market studies and analyses at least every three to five years based on gender and URG status.
E. New considerations for faculty promotion. At the request of their divisions, the governance bodies that evaluate faculty for tenure will consider how to incorporate excellence in public and community engagement and translational efforts in faculty evaluations, in addition to the usual criteria of excellence in research, teaching, service and clinical practice.