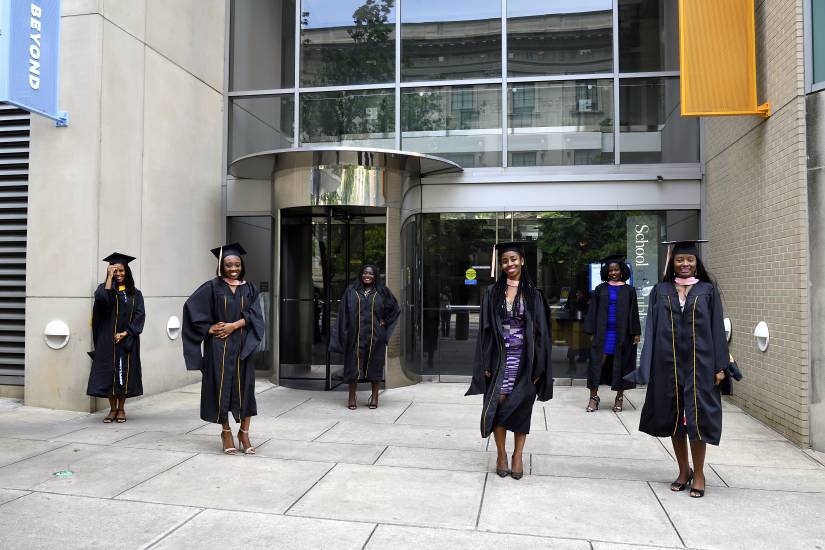 We aim to create a model of inclusive alumni engagement that fosters affinity between the university and alumni from underrepresented groups and that builds strong networks to create pathways for equitable outcomes for future Johns Hopkins students and graduates.
Goal 1. Launch new and expand existing alumni networks
To achieve our aspirations as a model of inclusive alumni engagement, the university and its divisions will deepen connectivity among our alumni affinity groups and diverse alumni community. We commit to strengthening and expanding our network of identity-based alumni affinity groups to support more equitable outcomes among all alumni.
In addition to the Society of Black Alumni (SOBA) and JHU Pride, Johns Hopkins is fortunate to have among our affinity groups the Hopkins Organization of Latino/a/x Alumni (HOLA), an ad hoc Black Alumni Engagement Work Group, and groups representing APIDA (Asian, Pacific Islander, Desi American) and Native and Indigenous Peoples, among many others. Expanding these networks will open opportunities for targeted engagement and a better understanding of the specific needs of our alumni across identity groups.
Goal 2. Recognize and celebrate the contributions of diverse alumni to our legacy
It is imperative that the extraordinary people who have lived, studied, and worked across our campuses and communities are reflected in the narratives of our institutional history. We recognize that there are many exceptional individuals whose indispensable contributions to Johns Hopkins have been overlooked, without proper recognition or acknowledgment, including the underrepresented accomplishments and experiences of diverse alumni.
JHU and its divisions will recognize and celebrate the contributions of diverse alums to JHU and the world, through historical research and exhibits, such as the Hopkins Retrospective oral histories initiative, as well as new and expanded building and program naming opportunities through the Diverse Names and Narratives Project.
Goal 3. Research and assess alumni experience to guide inclusive engagement strategy
Development and Alumni Relations (DAR) will build the information infrastructure to support and understand diverse alumni engagement and commission a study of alumni experience and outcomes. Together with available data on educational and career outcomes (e.g., first destination and at key intervals post-graduation), these surveys will inform JHU's broader DEI efforts and fuel new strategies for engaging diverse alumni.